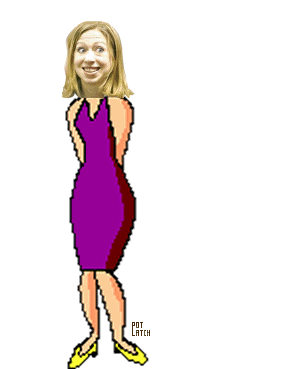 LOOK WHO TAUGHT ME!
27-year old Chelsea Clinton snubbed a 9-year old "reporter" who wanted to do a kid interview with her with a cold "I do not talk to the press!!
Sydney Rieckoff, a Cedar Rapids fourth grader and "kid reporter" for Scholastic News, has posed questions to seven Republican and Democratic presidential hopefuls as they've campaigned across Iowa this year.
But when she approached the 27-year-old Chelsea after a campaign event Sunday, she got a different response.
"Do you think your dad would be a good 'first man' in the White House?" Rieckoff asked, but Chelsea brushed her question aside and snubbed the little girl.
Here's the answer to the question:
Looks better than her "multi-faced" mother